Coffee
MyFundAccounting.Online
Our online version of Finance Co-ordinator – MyFundAccounting.Online – carries the same DNA as Finance
Co-ordinator but is updated to offer more flexibility and simplicity whilst still retaining the same compliance with Charity Commission and OSCR requirements that makes Finance Co-ordinator so popular.
MyFundAccounting.Online is designed to manage the accounts for churches and charities and enable reports to be produced in compliance with the Charity Commission and OSCR requirements. It manages funds with ease and includes a selection of pre-designed account structures for various different denominations and organisations, making setting up the accounts a breeze.
Both Receipts & Payments and Pre-payment & Accruals accounts can be produced and a large number of reports are available including Balance sheet, SOFA, fund reports, budget reports and analysis reporting.
Features include:
Create unlimited funds and nominal accounts including income, expenditure, current assets etc.
Edit and void transactions at the click of a button
Reverse transactions to simplify the entry of adjustments and refunds
Robust audit system is maintained throughout
Create memorised and template transactions to save data entry
Create budgets for key monitoring and analysis purposes
All the standard accounting reports are available
Fund accounting reports also available
Export reports and data to Word, Excel, PDF, HTML, TXT, DBF and Open office
Produce charts and graphs
Plus much more
---
Save time and work

Import transactions directly from a bank statement rather than having to type them in
Import donations directly from MyGiving.Online saving duplication of work
Share the work – create as many different users as you wish but only giving each the access rights you decide
Enable read-only access so that trustees can log in and see the accounts but not change anything
Work on multiple organisations easily and simply without the need to exchange backups
Work at the office, at home or anywhere there is an internet connection
Work from a computer, Apple Mac, iPad, Android, Tablet or virtually any browser enabled device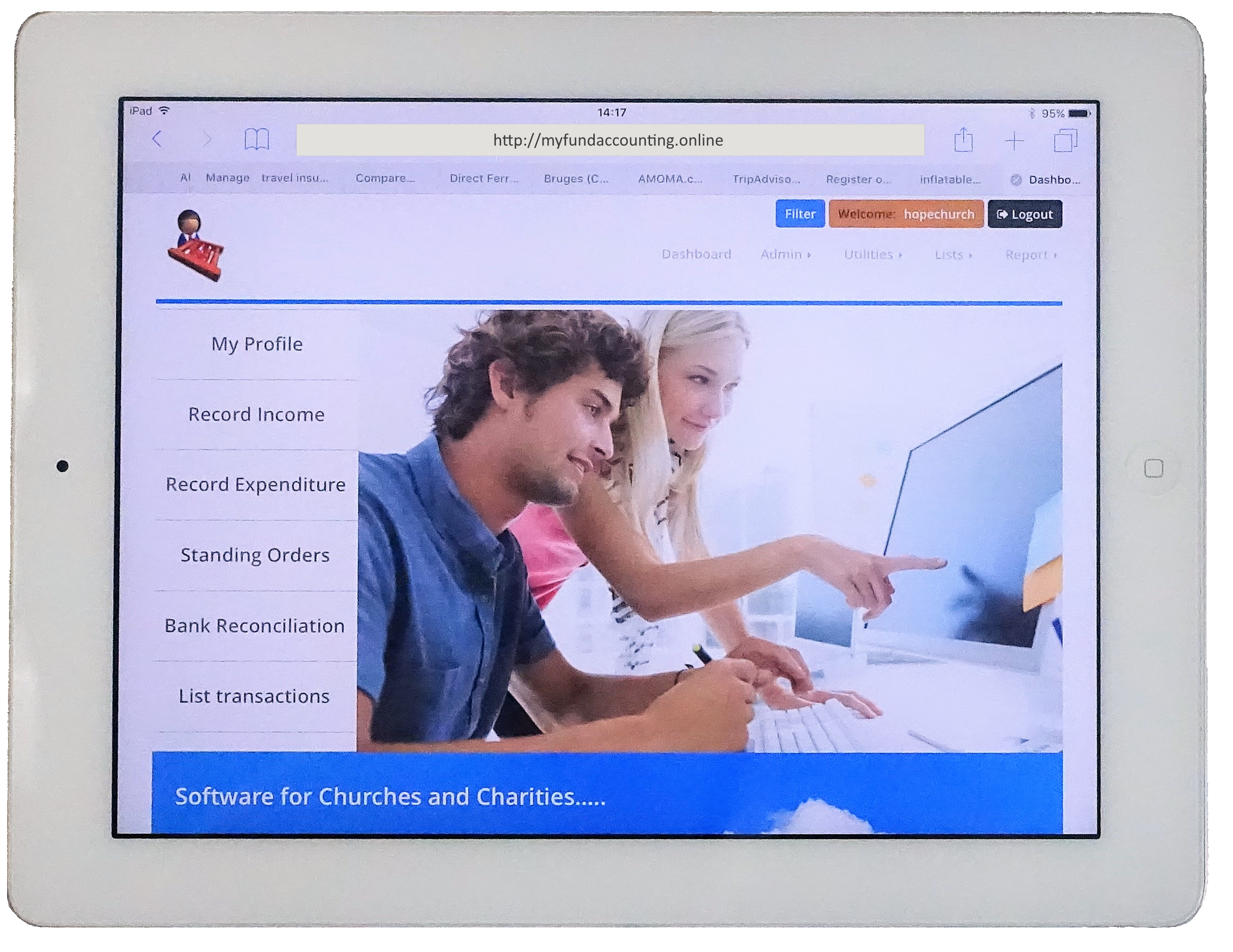 ---
Secure
No complete credit/debit card or bank details are stored at any point
Our servers are all PCI DSS compliant
Our site is tested by a completely independent specialist security company to ensure everything remains secure.
Our servers are monitored by technical support staff 24/7
The site is backed up regularly
---
For more information please email: [email protected] or speak to our Sales team on 01902 714030.
How much does it costs?
£15 per month (incl VAT)
What does this include?
Use of the software for a single branch
Use of the mobile app
Unlimited number of users
All future updates and upgrades
Technical Support by phone and email
For each additional branch you may require, the monthly fee will increase by £4
Click here to register for your 30 day free trial