HOW DOES IT WORK?

When you have registered a MyGiving.Online account for your church or charity you can then create new users and give them customised permissions to access the parts of the system that you decide.
For example you may decide that a donor can see their record and make further donations. If so that is all that the donor would see – they couldn't see anyone else's record or access any other parts of the system. Or you may be part of a group of churches and you could assign one user the ability to see and use one church but not the other.
You can use MyGiving.Online to record all of your donors (whether you can claim Gift Aid on their donations or not) simply by looking up the address via their postcode. You can then record/import all of the donations, whether by envelope, cash, Standing Order, Direct Debit, Credit/Debit card, PayPal, GASDS eligible, etc.
When you are ready you can submit the claim from MyGiving.Online directly to the HMRC.
SO HOW CAN I ACCEPT CREDIT OR DEBIT CARD DONATIONS?
To enable you to accept credit and debit card donations we have partnered with a credit card processing company to offer a cost efficient way for churches and charities to be able to accept such donations. You simply create an account with them and then add a few details such as your Account ID, etc. into MyGiving.Online and that's it! A donor can then start to make donations using their credit card and they will automatically appear on their MyGiving.Online record and be paid directly into the church or charity's bank account.
HOW CAN OUR DONORS USE YOUR MYGIVING.ONLINE MOBILE APP?
There are two stages to this:
1. The Gift Aid secretary has to create the login details on the donor's record to enable them to be able to access their details
2. The donor will then download our free app and use the login details provided by the Gift Aid secretary
A donor cannot access their record without the Gift Aid secretary giving permission. Once permission is given, from the donor's phone or tablet they can use the MyGiving.Online app – available on both iOS (Apple) and Android. This will allow them to see the donations that have been made, make further donations and produce a tax statement report to help them complete their self-assessment tax return.
The app will also enable the donor to complete, sign and email a Gift Aid declaration straight to the Gift Aid secretary which can be entered onto the donor's record all without a single piece of paper having to be passed between the two.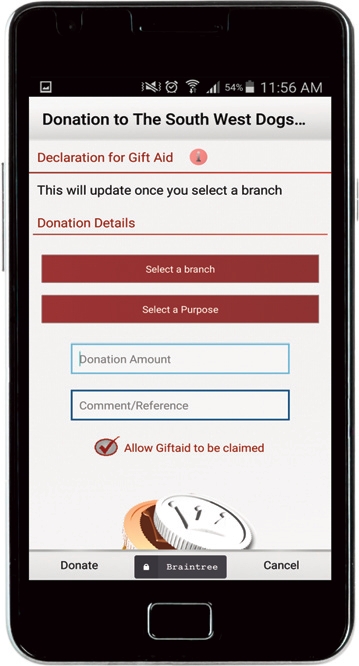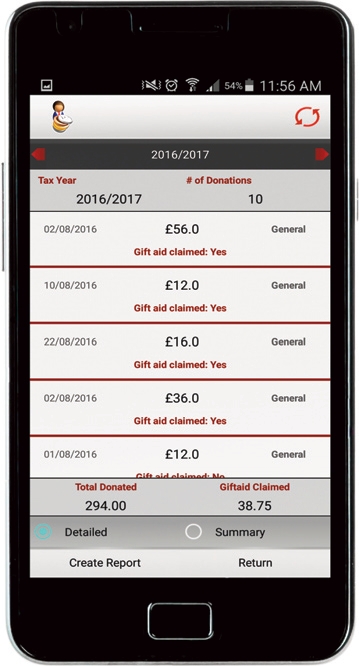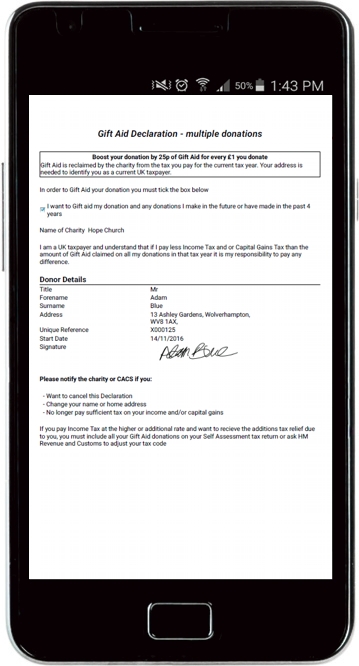 HOW ABOUT REGULAR DONATIONS?
MyGiving.Online can handle Standing Orders, Direct Debits and even importing from bank statements**
Much like credit cards, we have partnered with a company who will handle Direct Debit donations for you. They currently process over £1 billion per year and are authorised by the FCA and are BACS approved. They are used by HM government, Virgin, Thomas Cook, The Funding Circle and many others.
You would setup an account with them then your donors would sign a Direct Debit form to your Church or Charity and they can decide the donation amount, date and frequency they would like – these payments will then appear directly within your bank account and a corresponding donation will be generated within MyGiving.Online.
Plus if you ever need to change the amount of the payments, this can be done without having to arrange for a new mandate form to be signed; the donor would simply have to agree to the new amount.
**With our import donations from bank statement facility this saves the need to type donations in each month, which is ideal for Standing Order donations. The first time you import from the bank statement you simply tell MyGiving.Online that this particular donation (which appears on the bank statement) belongs to this particular donor. Next month when you import the next statement MyGiving.Online will automatically remember that link and import it for you, as simple as that!
HOW CAN I ACCEPT DONATIONS THROUGH MY WEBSITE?
Your website is a constant source of contact for new and existing donors, so why not provide the functionality for visitors to make a donation 24 hours a day, 7 days a week? Using MyGiving.Online you can generate a unique 'Donate Now' button that can be easily copied and pasted to a webpage of your choosing.
You simply need to create an account with the credit card company and MyGiving.Online will use those merchant details to generate the 'Donate Now' button. This will enable any donations made, via your website using the 'Donate Now' button, to be sent directly to your bank account and appear automatically within MyGiving.Online, even if they are new donors.
WHAT ABOUT SECURITY?
Although MyGiving.Online can record and import Credit/Debit card, Direct Debit, PayPal donations, etc. we DO NOT store, retain or have any access to those card or bank details. Once the donation has been made, we simply receive the details of the successful donation.
However this doesn't mean that we care any less for your data. We treat your data as if it did contain such sensitive information and so our server is PCI DSS compliant and checked regularly to ensure it maintains compliance. PCI DSS compliance is a requirement for the credit card industry standard to ensure that credit card details are kept securely – we comply to these standards even though we aren't storing any credit card or bank details.
In addition we have a service agreement to ensure that any security patches or updates are installed within two hours of being released and we have our site regularly tested by a completely independent specialist company. They test the site for any vulnerabilities and then, if any are found, work with our server technical staff to resolve them promptly. We have built the server to be able to handle sensitive data securely even though we do not currently have any intention to store that kind of information.
CAN I UPGRADE FROM DONATIONS CO-ORDINATOR?
Yes – You can transfer the information from Donations Co-ordinator without having to re-enter anything. Simply make a backup of your Donations Co-ordinator data and then use the import facility to transfer it.
HOW MUCH DOES MYGIVING.ONLINE COST?
MyGiving.Online costs £15 per month including VAT.
This includes:
• Use of the software
• Use of the mobile app
• As many users as you wish
• As many donors as you wish
• All version upgrades
• Technical support by telephone, email and support ticket.
If you are a group of churches (such as a Parish) then the first church would cost £15 per month and each subsequent church within the Parish would simply require an additional licence at a cost of £4 per month including VAT.
ARE THERE ANY OTHER CHARGES?
Yes – Unfortunately there are charges for accepting credit/debit card and Direct Debit donations. These are not applied by Data Developments and we do not 'take a slice' of the charges, they are applied directly from the relevant processing companies and are based on a per donation basis.
Credit/Debit card charges 1.9% + 20p
American Express 2.4% + 20p
PayPal for registered charities 1.4% + 20p
The Direct Debit charge is 1% per transaction
but is also capped at a maximum of £2

MyGiving.Online is our complete online donations management system, designed to re-imagine the way you handle donations and giving for your organisation by opening up new opportunities and saving you time.
We want MyGiving.Online to become a valuable facility to you to help grow your supporters and donors, so we enable unlimited number of donors to be stored without any additional charges.
NEW GIVING OPPORTUNITIES
Using MyGiving.Online it is now easier than ever to receive and manage credit/debit cards and Contactless Donations. You can also receive donations via your website, Direct Debit, QR codes, PayPal and JustGiving offering donors even more ways to donate.
INCREASE GIVING
MyGiving.Online has the unique ability to communicate directly with your website. Enabling supporters and visitors to make online donations; 24 hours a day, 7 days a week – the details of which will automatically appear in your MyGiving.Online account, even if they are completely new donors.
MINIMISE MANUAL INPUT
A facility to import donations directly from your Bank Statements, your website (using our Donate Now button), JustGiving, your Parish Giving Scheme statement and Paypal is included thus reducing the amount of donations you need to enter manually.
REDUCE ERRORS
With an automatic postcode lookup facility you no longer have to decipher illegible handwriting, simply type in the postcode, select the house number and the rest of the address is filled in for you.
REDUCE RECORD MAINTENANCE
To work alongside this online system we've developed a mobile app that can be used by donors to sign a Gift Aid Declaration, submit donations and update contact details. When means you can receive donations and submit your claim (where applicable) all without lifting a finger.
BETTER REPORTING
With the facility to import donations from external sources, such as JustGiving, you can establish a better understanding of where your donations are coming from and how much you are receiving.
NO MORE HARDWARE RESTRICTIONS
MyGiving.Online can be accessed from PC's, Apple Mac's, Tablets and almost any device with an internet connection.
SHARE THE WORK
Unlike our desktop application the number of users you can have linked to an organisation is unlimited. Plus each individual user can be assigned their own unique access rights, enabling you to determine what they can and can't do.
DONATE NOW
Visit our demonstration website to view and experience how the donate now buttons, available through MyGiving.Online, would work if you were signed up to one of the supported 3rd party payment processors: Braintree, GoCardless and PayACharity, to name a few.
Demo Site
How much does it costs?
£15 per month (incl VAT)
What does this include?
Use of the software for a single branch
Use of the mobile app
Unlimited number of users
All future updates and upgrades
Technical Support by phone and email
For each additional branch you may require, the monthly fee will increase by £4
Click here to register for your 30 day free trial